"…an uneasy supernatural charm"
03/19/2016 Chromaticism / JuJu / psych pop / psych rock / psychedelia / review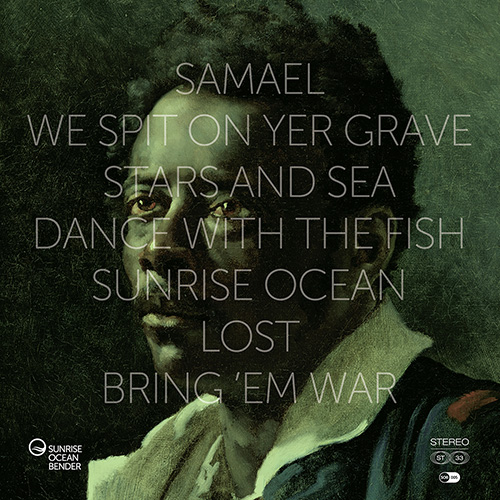 JuJu is Gioele Valenti, Lay Llamas collaborator and musical alter ego behind Herself.
JuJu is his current vehicle, highlighting a chapter in the, "on-going exodus from Africa that more often than not ends in ignored tragedies at sea".
Through the medium of music, JuJu the artist achieves his stated goal, "to turn that defeat into a celebration". A theme which is beautifully expressed with the artwork inclusion of Géricault's 'Study of a Model', an inspiration for his masterpiece, and long time favourite of mine, 'The Raft of the Medusa'.
'Samael', sees this archangel of death, discharging his lyrical venom of god, set to an innovative melodic contour, the off kilter time signature reminiscent of the work of Lalo Schifrin, a potent chiaroscuro of darkly themed vocals melded with dance floor sensibilities; 'We Spit On Yer Grave', again juxtaposes an up tempo, New Order-ish dance vibe, starkly against a lyrical backdrop, pinpointing our glaring, societal acquiescent malaise; 'Stars And Sea', opens in ethereal, metronomic distortions, choral waves of accusatory bleakness, somehow breaking free in ascendant, exuberant abandon; 'Dance With The Fish', revels in dystopian discord, a plunging, hybrid water ballet descent…
'Sunrise Ocean', gives flight and voice to it's Yorùbán forebears, a steadfast hymn, signalling resolute triumph, over malign oppression; 'Lost', drips with rhythmic psychedelia, an elemental melancholia, enshrined in monumental futility; 'Bring 'Em War', is a pulsing oratorio, a contortive convulsion, delivering a writhing spiritual affirmation…
JuJu courses with an uneasy supernatural charm. Paradoxically pitting an uplifting soundscape, against the inconvenience of a discomforting subject matter. Ultimately JuJu's provocative stance, aligns it with the canon of all great art.
JuJu is available via the Sunrise Ocean Bender Record Label webshop,  in an edition of 250 on 'Orange Crush' vinyl, with colour insert and download code.
What I particularly love about the Sunrise Ocean Bender Record Label, is that it continues to uncover high calibre left-field artists. That it does so with equally qualitative packaging, including the holy grail of a printed lyric sheet, is a blessing on which I have learnt to count.