"Pre-conceptions are an unnecessary burden"
05/15/2015 Chromaticism / drone / Evening Fires / experimental / kosmische / prog rock / psych rock / space rock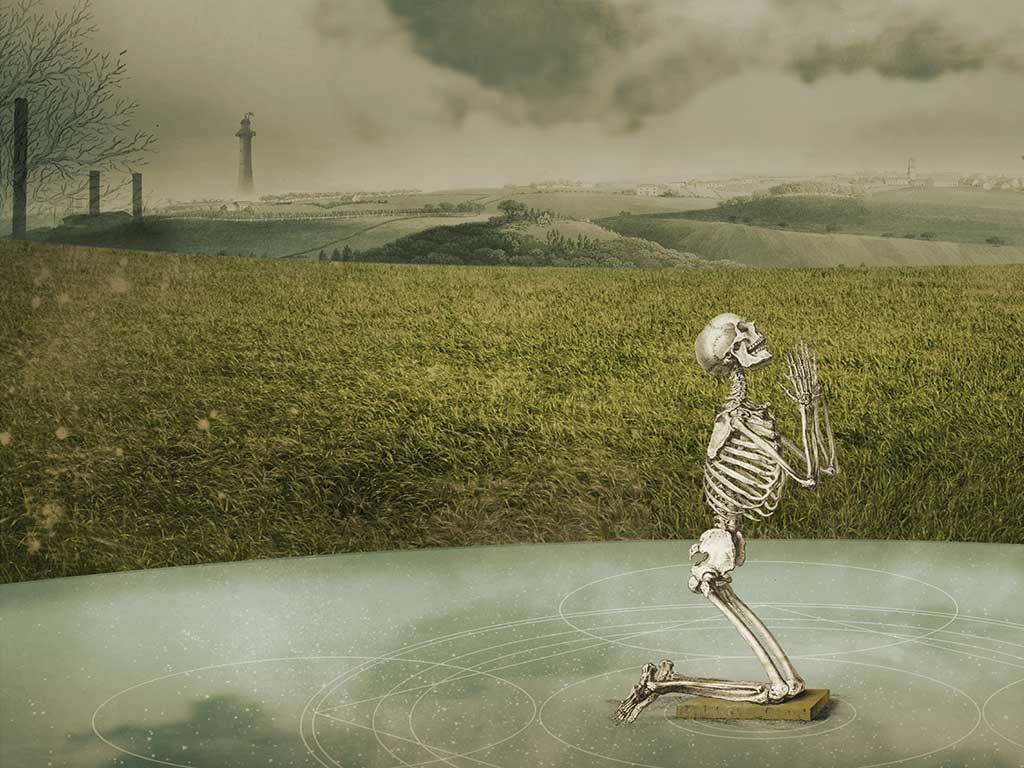 'Where I've Been Is Places and What I've Seen Is Things' is, "the newest album in Evening Fires ongoing story. Once again recorded in the their 'secret Appalachian den,' "WIBIPAWISIT" was mastered by Kramer and is Evening Fires at their finest. Described as peddlers of that old-time rural acid rock and purveyors of Appalachian space rock, Evening Fires has a reach that easily covers all points in between … and beyond", is how Evening Fires' bandcamp page describes this latest release through the Sunrise Ocean Bender Record Label.
The band's Facebook page bio states, "From their secret den in a northern Appalachian forest, Evening Fires brew up a rich blend of wide-spectrum rural psychedelia, with ingredients ranging from earthy folk sounds to cosmic drones to full-on rock freakouts".
Evening Fires is an open / revolving door membership, 'Where I've Been Is Places and What I've Seen Is Things' is credited to Ben Wentz – electric guitar, drums (A3, B3), bass guitar (B2), Bob Sweeny – bass guitar, Nathaniel Rasmussen – synthesizers, Kevin Moist – electric and resonator guitars, saxophone, Gabriel Gould – organ, Sean Devlin – drums (A1, B1), vibraphone, Matt Bugaj – electric guitar (B2), Adam Bugaj – lap steel guitar (B2), Jennifer Breimhurst – violin, gourdalin, theremin, bowed vibraphone, Erich Breimhurst – electric guitar (A3, B3).
Perhaps most intriguingly, Kevin Moist has described Evening Fires as being, "so mysterious, even we don't know who we are or what we're about". This is a refreshing approach, there are far too many out there all too quick to categorise and pigeon-hole. Evening Fires simply are what they are and you either like their music on it's own merits or you don't – mis / pre-conceptions are an unnecessary burden, possession of an open mind will suffice.
For me, there is a heart-aching sense of "yearning" and "connection" underpinning the emotive bedrock of this album, its subtleties engender soaring optimism and spiritual enrichment.
'Where I've Been Is Places and What I've Seen Is Things' kicks in with 'Roll Away The Stones', conjuring cordial, womblike, slow burning, homespun molecular layering; 'We Cast Our Lots With The Waves', is a soothing doldrumic sea shanty lullaby; 'Staring Down The Gullet Of the Great Beyond Part One', kicks the tempo up a notch or two, with it's cacophonous, panoramic glacial gliding; Side Two opener, 'Space Mountain', rides the wormhole, to pulsar trance cetacean song; 'Too Many Ravens, Not Enough Corpses', is a deliciously discordant, doleful dirge that puts me in mind of 'The War Of The Worlds', "Out of the hood hung lank shreds of brown, at which the hungry birds pecked and tore"; 'Staring Down The Gullet Of the Great Beyond Part Two', closes the album with unfaltering textural orchestration.
For further reading and Evening Fires insight, I heartily recommend the following conversations between Sunrise Ocean Bender guru Kevin McFadin aka Mr Atavist and Kevin Moist from the band, in both digital and analogue formats – "Natural Reverb: A Conversation with Evening Fires' Kevin Moist"  and Optical Sounds Fanzine #8.
In 'Where I've Been Is Places and What I've Seen Is Things', Evening Fires have produced an album that is intrinsically visceral, it transcends its affinity with the genius loci of its inception, heralding its universal message seamlessly.
'Where I've Been Is Places and What I've Seen Is Things' is available now from Sunrise Ocean Bender Record Store and Cardinal Fuzz…