"…glorious slice of modern pop psych…"
02/23/2016 Dave Thompson / Goldmine Magazine / psych pop / psych rock / psychedelia / review / Sons of the Void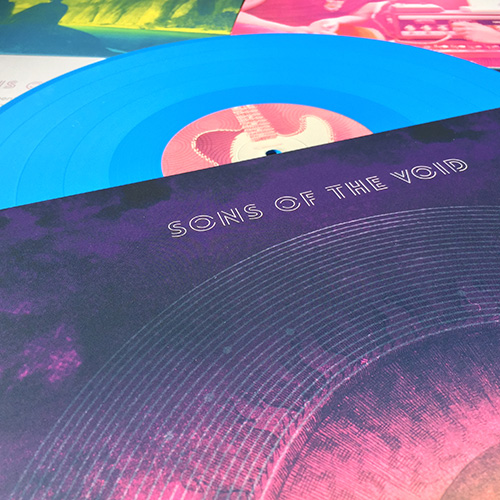 Take the vivid psychedelia of Hoboken's Tadpoles, and the vibrant sensibilities of Psychic TV; lock them away in a Switzerland studio and you have this glorious slice of modern pop psych, the first album by ex-patriate David Max's latest alter-ego.
Bright and vivacious, pressed on eye-catching cyan vinyl, it's a swinging limited edition that has a hint of the English indies about it, that wide-eyed singalong naivety that Luke Haines makes such a great job of playing, but precious few others beside him. Max is one of the ones who do, and the ensuing sonic blast emerges the kind of fluffy festival that leaves you listening with an idiot grin on your face, regardless of what else you're doing today.
"Kolliderscope," which opens with what sounds like a stadium live band getting ready to rawwwwwwwwwwk, before turning into the sort of backwards-band experiment that the Beatles liked to play with, might be the key cut, but the whole album grips the turntable like you'll never want to remove it.  And it wouldn't let you if you did.