" … an adventure worth taking … "
01/21/2020 Deep Water Acres / review / Reviler / Steve Palmer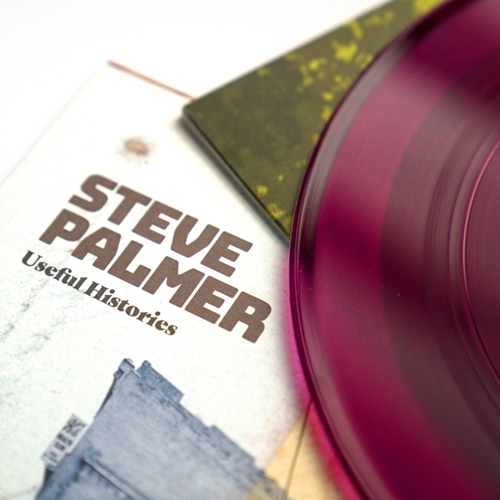 "Not All Who Wander Are Lost"
A vapid idiom best left to couch pillows sold at Kohl's, or an astute description for the outstanding music created by local guitarist Steve Palmer?
Can it be both? Palmer, who we have been big fans of here at Reviler since we came across his work early in our site's existence, is back after a bit of a quiet stretch with his new LP Useful Histories, which is being jointly released on Sunrise Ocean Bender and Deep Water Acres in early February. The five-song, 37-minute LP builds and expands on his previous work, venturing deeper into his rambling finger-picking primitive guitar while also exploring the locked-in grooves of classic kosmische. The latter is a welcome addition to his repertoire, a musical sub-genre that he has been probing in the live setting with his backing project Cassini. Back to the bad joke that started this post, the songs on Useful Histories are in fact meandering and lucid without feeling like they lack purpose or goals, a needle Palmer has threaded seamlessly through his career.
We are excited to be premiering two songs that showcase the album's duel identities ahead of the album's release. "Statesboro Day" is a chugging krautrock jam that barrels forward over 11 minutes of motorik drumming, locked in grooves and buzzing atmospherics. I've listened to the song countless times now and still find myself transfixed by the incessant groove the expands over the life of the track. You can easily lose yourself as the track relentlessly moves forward towards some unknown desitnation. It is a song that wouldn't have sounded out of place on one of the Deutsche Elektronische Musik comps and the track alone is worth the price of admission.
"Thirty" is a more greasy track, with hazy electronics battling with twangy, half-time finger picking. It is as loose and meandering as "Statesboro Day" is regimented. It sounds like a soundtrack to a spaghetti western if it were filmed on the moon after the director took acid. The whole album is a contrast in these two styles, both of which allow plenty of space for the listener to focus in on the intricate sound collage, or zone out and let your mind float. It's an ambient version of choose your own adventure where every choice results in something positive.
The entire album highlights an artist who continues to grow his sound and expands the universes in which he is traversing. Instead of choosing whether to go exclusively deeper or wider from his previous music, Palmer expands both the sound he refined on earlier releases and shows a dexterity in venturing into new terrain. For fans who have been around the last decade or folks who haven't heard his name, Palmer's Useful Histories is an adventure worth taking if you like music that doesn't settle for shortcuts or easy answers. Not all who wander are lost….or something like that.
One note on the release is that this will be the first record that Palmer has put out on vinyl, and I can attest to the fact that having two long stretches of music have been a highly enjoyable experience. His music works well on tape for the same reason (long songs that blend together in many ways), but it is great to experience his music on vinyl for the first time after years of CDs, tapes and streaming.
After checking out the two tracks below, you can pre-order the LP (it ships Feb 7th) via the Sunrise Ocean Bender website here. No word on a local release show, but we're hoping one pops up and we'll post about it when we get word.