" … Westerlund has created something quite different … "
10/14/2014 Aural-Innovations / E GONE / Jerry Kranitz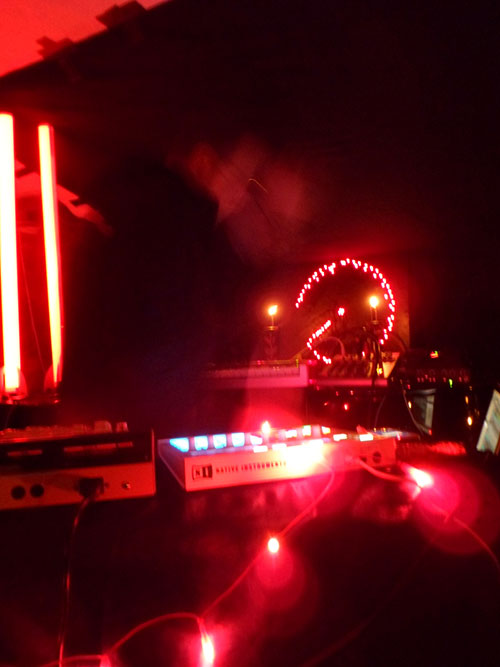 E GONE is the solo project of Swedish musician Daniel Westerlund, who is known for his band The Goner. All the Suns of the Earth is his first solo album and on first listen I was fairly baffled by what seems to be a confoundingly diverse set of 9 songs. But after the second listen I was intrigued, and a few more listens later I've decided that Westerlund has created something quite different. Take a stroll with me through the 9 tracks that make up All the Suns of the Earth.
Hexx is an electro groove tune that brings together multiple freaky elements. We've got high pitched 60s styled organ, tablas, bubble bubble toil and trouble electronic effects, and a combination of West Coast Psych guitar, sitar, and banjo, like some cross breed experiment between Indian swamis and Appalachian hillbillies. It would be downright insidious if it didn't sound so cool. Westerlund wastes no time shifting gears on The Drug Behind The Drug, which is a dense stream of space-waves, noise-drones and effects. I start to feel like I'm on a stylistic merry-go-round with the singer/writer Americana Folk song The Poor Of Heart. Blind Tribe is a freaky tribal effects laden groove tune with an electro Stoner-Psych edge. Hanumannerism is a sitar, tablas and dark droney keys celebration of trippy Middle Eastern flavored Psychedelia. Traveler, You Will Sing returns to the traditional Folk song motif, adding a bit of a Celtic vibe. At over 9 minutes, Hazel Motes At The Plastic Vortex is the one lengthy stretch out track of the set. It starts off as cosmic pagan Folk-Psych, with brain throbbing drones, eerie spaced out synth melodies, and slowly meditative tribal percussion, along with a Wyrd/Folk hillbilly vibe that eventually morphs into a purely space electronic excursion. I think this and Hexx nicely encapsulate everything that All the Suns of the Earth is about. This track bleeds seamlessly into You Will Sing, which develops into a subtly beautiful cinematic and somewhat Shoegazey piece, with dreamy spacey organ and guitar melody. Finally, Fever Child closes the set as a simple but lovely Pagan Folk-Psych tune.
In summary, All the Suns of the Earth is an album that requires unhurried mastication and digestion. Over multiple spins I came to appreciate the diversity of Westerlund's interests and, especially, the way he creatively brings that diversity together on some of the album's tracks. I'll need to explore more of his work.