" … it's all here."
05/12/2015 ambient / Aural-Innovations / Chef Menteur / drone / electronica / psych rock / psychedelia / space rock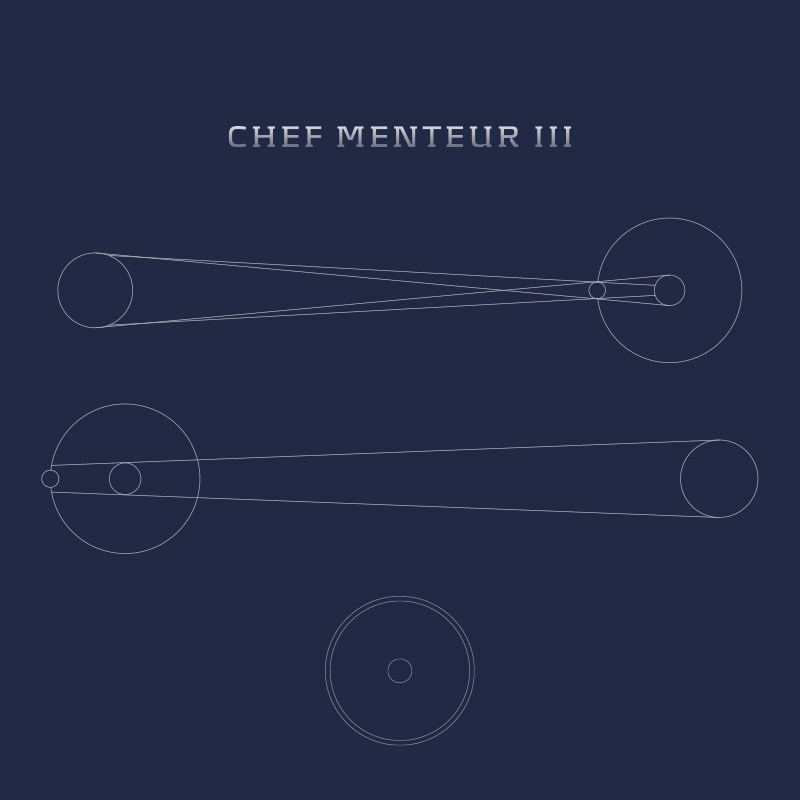 This is the first I've heard from New Orleans based Chef Menteur since 2007's The Answer's In Forgetting. Their latest is a 3-CD set that consists of three different albums: The most recent is Force Majeure, which was originally released by the band last year as a limited edition and now sold out cassette. We've also got a reissue of the 2012 released 2-LP East of the Sun & West of the Moon, plus North Tomorrow & South Of Yesterday, an unreleased set of songs recorded at the same sessions.
There's a tremendous amount of variety across these three CDs and a lot to digest…
Force Majeure opens with the spacey, melodic, soundscape drifting Faeroe, which has a cinematic feel and lightly playful alien effects. The band then veer into left field with the funky yet psychedelically spacious, dance floor enabling Pyrymyd Scheme. I like the darkly moody and volcanic intensity of Death Wraith 2000. Surface Tension injects a Morricone soundtrack feel with acidic yet hauntingly ambient Space Rock and funky rolling grooves. The elusively complex arrangements detected on the previous tracks come to full fruition on my favorite track of the set, Immense Dimension, with its combination of Prog Rock intricacy, Space-Funk, mesmerizing drones and cosmic majesty.
The dozen tracks on East Of The Sun & West Of The Moon cover a lot of ground, starting with the anguished, emotive and totally trippy Psychedelic Narconaut. Il obstrue ma vue de Venus is deliriously surreal in its zig zag from a Stoner take on Pink Floyd's One Of The Days to densely noisy windswept Rock, to lusciously gorgeous melodies. Terpsichore consists of sultry yet freaky Space-Jazz. Lozenge Club is a brief but funky and Dub-like spacey piece. The Forest upsets any sense of balance with its combination of acid drone waves of guitar and keys, punctuated by off-kilter electro rhythms and freaky Jazz and effects injections. The 11+ minute Oxen Of The Sun is like a Prog Rock take on acid-space Psychedelia and Space-Ambient exploration. The music ebbs and flows with a freeform feel, but at all times has a clear sense of goal oriented composition. Chef Menteur prove themselves to be masters of thematic development as they seamlessly shift gears, from minimal ambient waves, to high intensity Space-Prog, to caustic yet cool grooving Acid-Psych. The band does a complete 180 degree turn with the 19 minute Ganymede, a Space-Drone symphony that blends floating Space-Ambience, early minimal Klaus Schulze and Frippertronics. The Long Stand (Part 2) is all about melodic and rhythmic rocking Acid/Space-Drone splendor with a tasty surprise acoustic finale. The Eastern flavored Ordo Templi Orientis is simultaneously trippy and powerhouse acid-symphonic. I Belong To This Plateau starts off like Bluesy dreamy Pink Floyd in a train station setting, before being enveloped in a shroud of potently crushing and noisily harsh aggression that somehow manages to retain a sense of hypnotic drift. And Reach For The Lion is a killer heavy Acid-Psych rocker that's tempered by spacey keyboard melodies.
North Of Tomorrow & South Of Yesterday consists of unreleased music from the same sessions as East Of The Sun & West Of The Moon. There's some cool stuff though as a whole it's not as consistently powerful as the other two albums. But there's a lot happening here. We've got raga rockers, a weird lo-fi keys and rhythm machine bit, fun and freaky electronica and samples blends, a lulling banjo and bass stroll, and sound, noise and melody experiments. Among the highlights of the set are Farfisa Duo Raga, a strangely narcotic blend of intensely paralyzing drones, melodic keys and strumming acoustic guitar. The avant-Psychedelic The Mamluk Qalandars has a pleasantly mesmerizing, acidic dissonance. The Long Stand (Parts I & II) is a trippy, spaced out and totally stoned Indian inspired raga Psych rocker with a freeform magic carpet ride sensation, but then goes pure Space Rock for the last couple minutes. Phallus Marinarus features 12+ minutes of flowing fuzz waves, snake-like weaving space drones, and lightly melodic soundscape guitars, all led by a kind of phased, Motorik rhythmic pulse. And Sorry For The Delay is a beautifully melodic, dreamily streaming and cool grooving rocker with a tasty offset of layered guitars and Kraftwerk synth melody. Just trip along with this gem as it goes deeper and deeper into space.
Space Rock, Psychedelia, Prog, Jazz, electronica, meditative space excursions, soundtrack narratives… it's all here. And Chef Menteur deftly juggle and blend it all. Recommended.