"Every so often an album comes along that really pushes all of the right buttons with me … "
11/25/2014 Bill Kopp / Musoscribe / The Movements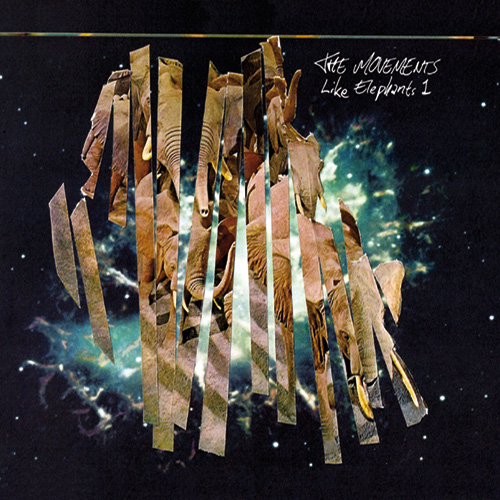 Every so often an album comes along that really pushes all of the right buttons with me. And as with most listeners, for me, what exactly those buttons are constitutes a very eclectic, nearly unknowable mix.
I recall an evening several years ago, when I arrived for band practice at the home of our bass player. He always had the stereo going ahead of practice, and he always had something interesting and unusual on the turntable. This particular evening, I entered the room to the ambient sounds of flies buzzing, crickets chirping, and a small, single-engine airplane whirring distantly overhead. And when the ambient section ended, the music itself was very appealing.
A select few of you might recognize my description of Music from the Unrealized Film Script: Dusk at Cubist Castle, the 1996 album from Athens, Georgia's Olivia Tremor Control. For me, that album – with its near-perfect balance of weirdness, found sound, hooks and melody – is an all-time favorite.
That all-time-favorite list rarely gets appended, but it looks like another album – or, more accurately, pair of albums – might join the ranks of Dusk at Cubist Castle, The Flaming Lips' The Soft Bulletin, Radiohead's OK Computer, and Teenage Fanclub's Grand Prix.
A shaggy Swedish group calling themselves The Movements have recorded and released a pair of albums titled Like Elephants I and II, and their mix of space rock, psychedelic and garage rock – all with a strong sense of melody and flow – is as strong a new-to-me set of tunes as I've heard in a very long while.
My mentioning Dusk at Cubist Castle is relevant beyond my love of the music: there's a very similar musical sensibility at work on the Like Elephants albums.
The first Like Elephants album kicks off with "The Death of John Hall D.Y.," and at first it sounds like a single-mic recording of a band practice. But a few measures in, the fidelity improves, the aural equivalent of a stage curtain opening wide to reveal the band behind it. Soaring vocal harmony and a country-inflected rock approach – sort of The Byrds meet Quicksilver Messenger Service meets The Flaming Lips – start the album in grand fashion. The lengthy "Boogin'" is built around a hypnotic riff based on repetitive guitar licks and a bracing combo organ figure. The song's arrangement will sound familiar to fans of, say, Black Mountain, but the melodies within this tune are more memorable. The band does engage in some jamming mid-song, but the feel has more in common with Love or Jefferson Airplane than The Grateful Dead. Put another way: the band seems to know where they're going.
With its ramshackle piano and acoustic guitar, the brief "Shady Wind" is reminiscent of early Neil Young, but with some delightfully psychedelic guitar that sounds as if it's being played with an e-bow.
A sustained guitar note leads into the speedy "Two Tongues," a tune with all the elements of a hit rock single, but (happily) rendered less commercial by its breakneck pace and wild, distorted approach. Like most everything on the disc, the song is deceptively simple on the surface, but quite complex (almost but not quite "busy," in fact) when one listens more intently.
Like Elephants I is structured so that most all songs tumble into each other; when breaks do exist, even they seem on-purpose. It may not always be clear what The Movements are singing about – they're from Gothenburg, Sweden, and their English is perfect, but they remain inscrutable – but they get the ambiance and emotion across without ambiguity. They rock hard, as one listen to the guitar break on "Great Deceiver" illustrates, but they do so with finesse. The four chords that form the foundation of "All the Lost" have been used this way in countless songs, as have the drum beats and the sinister-sounding organ lines. But while The Movements are conjuring 1966 in the tune, their music doesn't feel as if it's looking backward.
The lilting "David's Song" has hints of Merseybeat, and its placement on the album makes plain that the group is capable of many different musical colors and shades; Like Elephants I is a deeply textured work. The title track feels like Led Zeppelin at their most Fairport Convention-influenced, and sends a reviewer such as myself to the thesaurus looking for different ways to tell you how hypnotic the song is. A pair of acoustic guitars — one six-string, one twelve-string – engage in delicate interplay.
Another longish tune, "Ingeting Kommer Ur Ingeting" may remind some listeners of Dungen, another Swedish group who has found inspiration in the past while always looking to the musical future. The song unfolds into a gauzy sonic swirl, but keeps a toehold on the ground; once again, no mater how far out The Movements reach, they never lose their way, never trail off into self-indulgence. And Like Elephants I closes with its finest song, "It Takes a Spark." the tune induces a sense of déjà vu: you may swear you've heard the song before, but you haven't. Its dialogue between shimmering, jangly guitar and combo organ provides lovely support as the band sings the song's (and the album's) most memorable line: "The first thing that you said to me / was the last thing on my mind." And then it's over.
Stay tuned: tomorrow I'll review The Movements' followup, Like Elephants II.