"…deftly plots its course between the cacophonous and the harmonious…"
08/18/2015 Chromaticism / Dead Sea Apes / kosmische / psych rock / psychedelia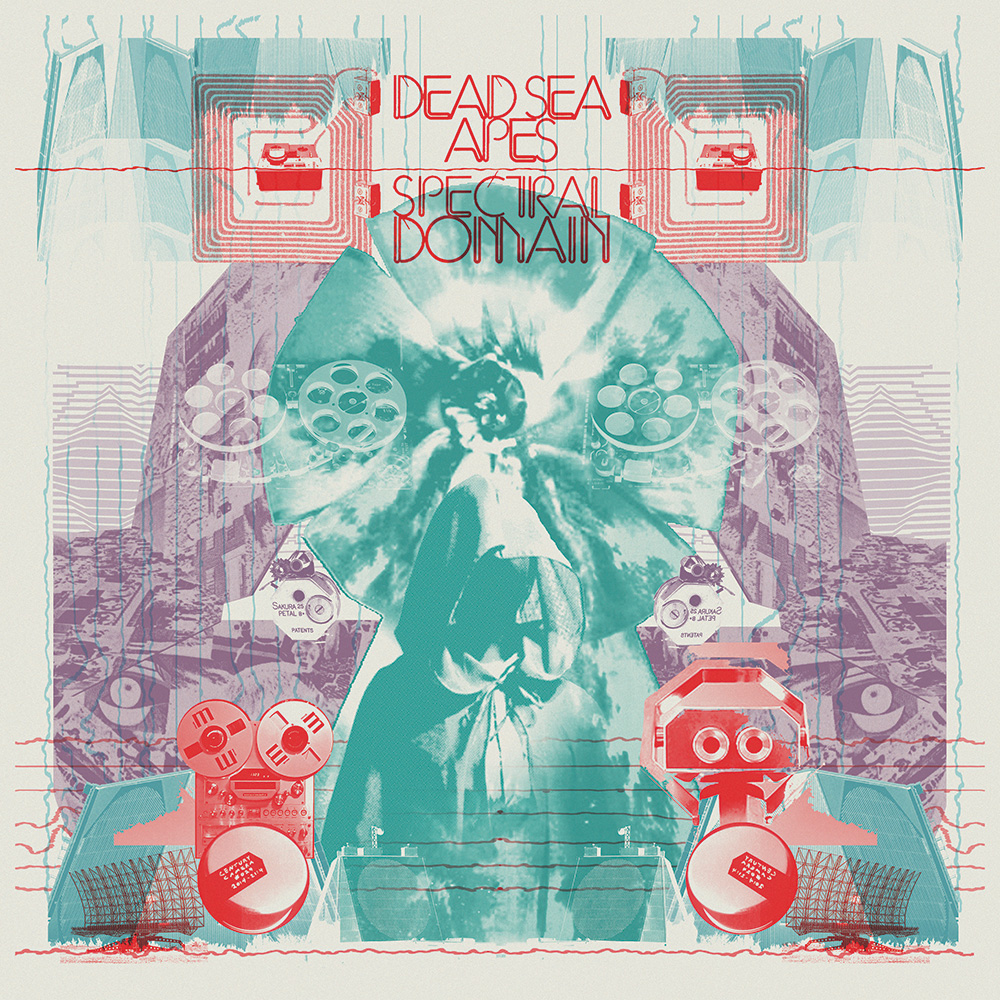 Time flies when you're having fun…
It seems like only yesterday that I was reviewing the Dead Sea Apes' majestic 2014 offering, 'High Evolutionary'.
Suffice to say that with 'Spectral Domain' they have surpassed themselves yet again, literally transcending beyond, revelling in their self-styled incorporeal dominion.
These fabled Dead Sea dwellers, allegedly transformed into Apes for turning a deaf ear to "God's message", can perhaps best be summed up in Carlyle's metaphor as, "describing people in modern times to whom the universe, with all its serious voices, seems to have become a weariness and a humbug". (Wikipedia). In that respect I am somewhat astonished that the Dead Sea Apes' followers are as yet not numbered in their legions, give it time…
'Spectral Domain' on purple and clear swirl vinyl, will find a welcome home beside it's forebears, 'The Sun Behind The Sun' on grey vinyl, 'Lupus' on gold vinyl and 'High Evolutionary' on frosted clear vinyl, in my record box – I'd urge everyone reading this to similarly augment their collections accordingly.
The exquisite sleeve artwork by Luke Insect Studio alone, is worth the entrance fee.
The Dead Sea Apes triptych comprises Brett Savage on Guitar, Nick Harris on Bass and Chris Hardman on Drums, their bandcamp page most eloquently describes them as a, "3-man instrumental leviathan".
'Spectral Domain' kicks off with, 'Universal Interrogator', an expansive, relentless rhythmic incantation, stirring sinister, bubbling undercurrents from it's dystopian, abyssal depths; 'True Believers', delivers a smouldering, discordant, plaintive tension, taunting and resonating with brooding, theistic nihilism.
Side two gets underway with, 'The Unclosing Eye', lightening the mood palette a notch or two with it's quixotic, atonally throbbing, eastern visionary motifs; 'Brought To Light', introduces a necessary Dead Sea Apes extraterrestrial element, evocative of the time signature emitted by a pulsating radio star; Closing track, 'Sixth Side Of The Pentagon', is an alchemic conjuror's sleight of hand, an empyreal, trance dub symphony. It's title perhaps alluding to the elusive, un-glimpsed bigger picture, hidden and mired in what, these days, shabbily passes for mass media.
'Spectral Domain', deftly plots it's course between the cacophonous and the harmonious, mixing crushing, menacing, corkscrew trajectories with the modulating, mystical articulation of the necromancer.
That 'Spectral Domain' unapologetically casts a somewhat downbeat and sombre shadow than previous DSA outings is, I am sure, in no small part attributable to these troubled times in which we find ourselves. It is of course no less loveable for that, a zeitgeist soundtrack if ever there was one…
'Spectral Domain' is available soon as a joint release via Cardinal Fuzz and Sunrise Ocean Bender on purple and clear vinyl swirl.