"…a kaleidoscopic dreamscape…"
03/02/2016 Chromaticism / psych pop / psych rock / psychedelia / review / Sons of the Void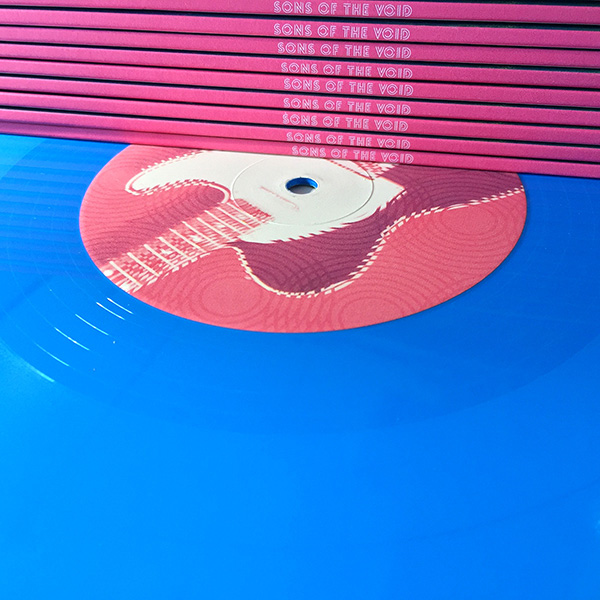 "Sons of the Void is the latest project from David Max, former bassist/songwriter with Hoboken/NYC psych rockers Tadpoles. Following his tenure with Tadpoles, David emigrated to Switzerland and began a 5-year stint as guitarist/songwriter in Genesis P-Orridge's psych-futurist collective Psychic TV. David has also worked alongside many pioneers of drone, dream and psych over the years, including Sonic Boom and Gibby Haynes. After meeting Nick Nobody, David struck out on his own with 'Simple Psychedelic Pleasures.' A band was assembled to tour 'SSP,' and shortly after a new crop of songs began to take shape. After establishing their own studio, Logical Magic Recordings in Basel, David and Nick took those songs to the next logical step: the debut album of Sons of the Void." So says the comprehensivly succinct  press release, courtesy of Kevin McFadin, under the ever watchful, third eye of Sunrise Ocean Bender Records.
'Leichenblume', opens to otherworldly funerary chants, blossoming in chiming shades, of omniscient pastoral bliss; 'Don't Forget To Pray', continues the up tempo layering, a kaleidoscopic dreamscape, tumbling within melancholic undertows; 'Kolliderscope', pushes the experimental envelope, awash with studio wizardry, vocally measuring the zeitgeist, with abject resignation; 'Absorption', pounds with rhythmic flux, an all encompassing, interdependent universal hymn…
'Hope I Don't Miss', intones a sing-song metre, it's lush, lullaby quality, a peaceful, restive paean on conflict resolution; 'The Things We Wish', imagines a fanciful simplicity, an ambrosian idyll, celebrating a longed for, yet tantalisingly elusive utopia; 'A Kick Like That', portrays an unfolding habit, played out in anguished solemnity, to a backdrop of swirling, chiaroscuro orchestration; 'Little Children', exudes a delicacy of joyful instrumentation, set initially against a plaintive vocal, ultimately delivering redemption by way of intuitive embrace…
The ripple pattern to the LP cover and inner sleeve, hint at undercurrents of interconnectedness, cresting here in welcome constructive interference. A defiant statement that a cloud-bound, collaborative Camelot, shall not remain forever unassailable.