" … a band that rides roughshod over genres and flatten boundaries … "
03/16/2015 ambient / Chef Menteur / ColourHorizon / drone / kosmische / psych rock / space rock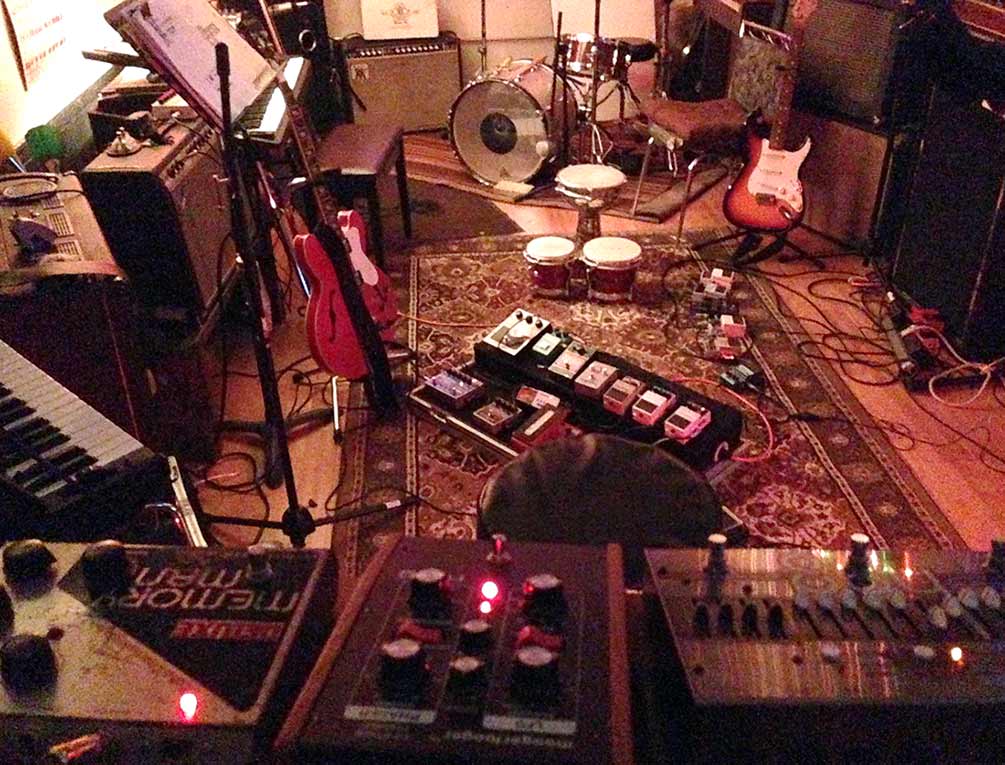 New Orleans band Chef Menteur don't really tear up the rule book, they shred it and feed it to the pigs. This is a band that rides roughshod over genres and flatten boundaries. Their newest release, an epic 3 disc set called, oddly enough, III, features a wealth of goodies that covers an enormous vista of music. This is in the Ben-Hur of music. It has a sprawling quality that is almost intimidating, but don't let it put you off, treat it as a T bone steak if you like; consume in small pieces, or wolf the lot down, whichever takes your fancy…
III comprises the new album East Of The Sun & West Of The Moon, it's brother North Of Tomorrow & South Of Yesterday culled from the same sessions along with the sold-out cassette release Force Majeure as a bonus. To call it a treasure trove would be slightly disrespectful.
The sheer scale of this 3 disc set has led me to the theory that there are a number of Chef Menteur's at work here. This seems the only reasonable explanation for the variety of music. Let's see just how many Chef Menteur's there are…
Chef Menteur 1 creates the languid, bluesy psych of 'Terpischore' and even better, the long version of said song. A lush, divine, descent into the realms of the mind. When this band kicks up through the gears you get the moody death jam of 'Death Wraith 2000′ and the bass rumble of 'Surface Tension' that eventually bleeds into spiralling, neurotic guitars. For the post-punk dance smash that never was, check out 'Pyrymyd Scheme', which seems summons various incarnations of Talking Heads round for a boogie. Gravelly bass jostles with fluttering, occasionally medieval guitars on 'Il Obstrue Ma Vue De Venus' with the resulting effect conjuring a fractious night out with the knights of the round table.
The Tangerine Dream evoking Chef Menteur 2 rears it's head on the long, komische explorations on 'Farfisa Duo Raga', 'Faeroe' and 'Ganymede'. There isn't much more to say about these, except if you dig Tangerine Dream, get yer shovel out.
Chef Menteur 3 provides 'One Fret Beyond' which aims to introduce the world to a less embarrassing Level 42, or Lalo Schifrin going rogue. 'Lozenge Jazz Club' spills out a repetitive, trancey bass and piano scheme. 'The Mamluk Qalandars' is a CAN ethno-jam. Hints of funk permeate the album, reminiscent of Lumerians.
Chef Menteur 4 is the shoegaze wing of the band, with 'The Long Stand (parts I and II) churning out stoned squalls finally exploding into a wall of triumphant noise. On 'Ordo Templi Orientis' guitar vapour trails suggest a sober Helicon, at 6 minutes it is just hitting its stride when it is over.
Closely related is the space rock Chef Menteur 5 and their 'Narconaut', which, following a brief Viking war theme intro, simmers down into a trippy, effects laden sound soup. 'Sorry For The Delay' may be what Mugstar on ketamine may sound like. Or not. 'Reach For The Lion' boasts a heavy riff and past the 2 minute mark, a screeching guitar solo. All in all, this is what 'rock' music should have sounded like, you even get a cheeky prog rock joust at the end. 'Phallus Marinarus' sees Hawkwind wading face first through mud; bass caked in subsoil, guitars that needle, oily vapours hanging in the air. This song may be the sound of Spacemen 3 working as car mechanics. By the end though, Chef Menteur 2 have clearly had a hand in proceedings.
Chef Menteur 6 scatter the album with folksy guitars, such as the interlude 'Don't Invite A Centaur To Your Wedding', which brings to mind the image of a depressed mouse strumming XTC's 'Senses Working Overtime'. 'I Belong To This Plateau' is part Bowie-in-Berlin ambient and part Nordic post rock, worthy of label mate E-Gone as funereal tones clash with delicate guitars. Then Chef Menteur 4 saunter in with their effects rack. Chef Menteur 6 are definitely working unaided on 'Ribbons from Lake Kwashiorkor', mashing up Lords Of The Rings with some world music vibes. 'Sinks Of Gandy' is just careful, nocturnal acoustic guitars.
Or what about Chef Menteur 7 responsible for 'The Forest'? This is part chill out vibes with samples that recall The Orb and part main menu music to a 1990s Football Managing game on the PS1. This band possibly conjured up 'Where Wings Take Dreams', recalling Cabaret Voltaire… or possibly not.
And 'Oxen Of The Sun'… don't even ask… fast, folksy guitars here, lashings of noise there, huge dance groove underpinning the whole lot in an almost symphonic ecstasy.
Finally, 'Omnilab' is the sound of the kid downstairs playing Super Mario.
While a lot of bands have been mentioned here these are merely direction posts to get to grips with this spawling monster, at no point does Chef Menteur sound even one step removed from their touchstones.
III is a labyrinth of wonders to discover and exploration may take months. The size of this work would be impressive enough, but the quality of the music throughout never drops below excellent. One constant highlight is the bass playing of Brian Abbott, attacking and caressing in equal measure, providing a companion in your travels.
Already a strong contender for the album of 2015. Unmissable.
'III' coming soon from Sunrise Ocean Bender.