"5/5"
02/08/2018 Dead Sea Apes / Primal Music / review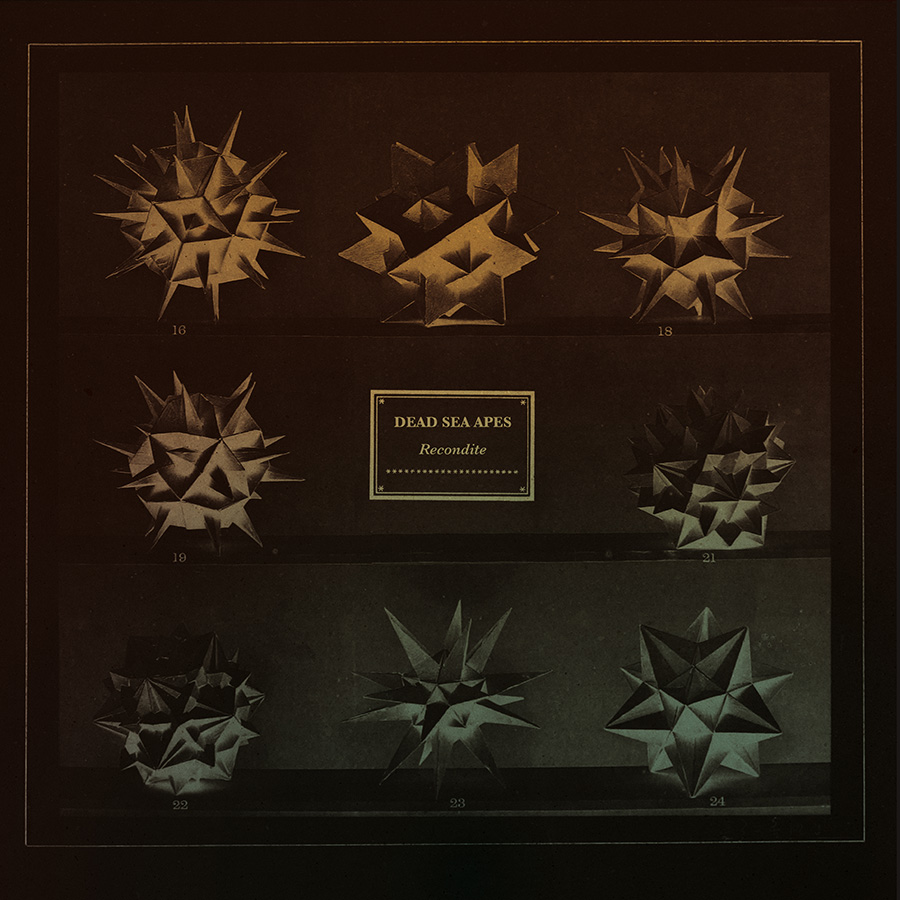 Manchester based experimental psych aficionado's 'Dead Sea Apes' have returned with a brand new sonic compendium entitled 'Recondite', a collection of tracks recorded for various compilations, off-the-cuff jams, dub remixes and covers of Kraftwerk, Harmonia and Alexander 'Skip' Spence. The band have been carving out their own rather special niche in a scene that strives on it's core principles of expansive and consciousness-altering guitar, bass and drum based compositions. 'Dead Sea Apes' have never easily fitted into a 'psychedelic scene' as such like so many of their contemporaries but have instead taken a different path to sonic enlightenment by experimenting with dub, electronic sequencing and mind altering reverberations that both thrill and hypnotise all at once. Those of you new the sounds of 'Dead Sea Apes' will find this brand new compendium of tracks absolutely fascinating as it perfectly explores every facet of their collective sound, from their influences to their unique talent of merging various genres to create one hell of a lysergic tinged trip. 'Recondite' has it's official release on February 9th 2018 with pre-orders available on various formats from Cardinal Fuzz Records (UK) & Sunrise Ocean Bender Records (USA) respectively.
The absorbing opening salvos of 'Tentacles (version)', a track that originally appeared on 'Dead Sea Apes' last album – 'Sixth Side Of The Pentagon' are taught and frequented with swirling drones, glitchy dub lined scratches and sequenced electronics. Spoken word courtesy of artist and author 'Adam Stone' float into earshot accompanied by the rumblings of deep dub lined bass notes, warbling stabs of guitar and synth as heady clouds of machine gun delay and sticky reverb fill the ether with intense atmospherics. This take is longer than the original version of 'Tentacles' but it's a highly infectious mix of psych and dub with this listener marvelling at the melding of it's dystopian vocalisations and the aforementioned hypnotically charged accompanying instrumentation. Up next 'Coronal' (originally appearing on a Cardinal Fuzz compilation entitled Stay Holy) tumbles into audible range on a swirling instrumental drone. Rolling percussion builds from below the mix and a subtle surge of eastern esoteric psych bubbles to the surface dragging noisy electronics and tempestuous production theatrics with them as shimmering guitars undulate and merge with repetitive lines of atmospheric synth. This track is deeply incantational, krautrock heavy and it rises and falls through huge cavernous sonic troughs before surging skywards on layers of wide scoped sonic reverberation.
'Planet V' undulates and moves in unison with big repetitive bass progressions riding pounding drum patterns and swirling drones as impressive lead lines whip the entire piece to within an inch of it's life whilst 'True Believers', another alternate take, originally appeared on the brilliant Evil Hoodoo 'For Nepal' compilation, staggers into ear shot on a wave of sullen atmosphere. Slow moving percussion keeps a steady back beat, carefully carrying the throb of bass and subtle production theatrics before all hell breaks loose and we're spinning wildly in a dark and oppressive slab of stunning space rock. This track builds slowly through staggered verse progressions and unleashes an explosive surge of sonic energy through catchy breathtaking progressional changes that are pinned to meandering lead lines that loop and arc throughout. It's a masterpiece and a highlight for me on this release. Up next, 'Land Of The Sun' featuring 'Gabriel Minnikin' is a cover version, originally released by Canadian native Alexander 'Skip' Spence (Jefferson Airplane, Moby Grape, Quicksilver Messenger Service) and deftly undertaken here by Dead Sea Apes. Feedback laden opening bars build and merge with the swirl of cymbals and the pull of reverb before sporadic percussion and the throb of bass lure this listener into a melee of swirling instrumentation and resonating frequencies. It's a white knuckle thrill ride, permeated at times with intense spoken words that are reminiscent to Iggy's stint with UK based 'Death In Vegas' during the 90's.
'The Recognition' is lifted from the brilliant 'Stand With Standing Rock' compilation from Sky Lantern Records and is another album highlight for me. It's opening permutations are mesmerising as they snake alongside deep rumbling bass kicks separated by shimmering tambourine and deeply spiritual guitar progressions that build and build forever adding layers of intriguing combinations that culminate brilliantly into a magical murmuration of sound. Up next, 'Universal Translator' spins in a haze of tumbling synth as rumbling percussion rattles underneath closely followed by throbbing bass lines and swirling feedback that collectively builds into a pulsating sonic behemoth whilst 'Lupine Wavelength', originally released on the magnificent 'Magnetic North' split album from Drone Rock Records, spirals through massive layers of reverb as those steady drum patterns hold court deftly ferrying cascading bass signatures, fizzing synth and pull of lead guitar out into the sonic ether. 'Dead Sea Apes' inject yet another cover version into the compendium as 'Rückstoss Gondoliére', originally recorded by 'Kraftwerk' enters into audible range. Swirling drones accompanied by kosmische theatrics, swells of synth and luscious guitar progressions float and ebb through layers of atmospheric reverberation pulling sparse percussive hits and squally instrumentation with them before building into a slow moving slab of incantational psych. It's mesmerising guitar progressions loop and arc effortlessly through throbbing bass frequencies and rumbling drum patterns. 'Rückstoss Gondoliére' is formidable in sonic stature and yet another tripped out highlight on this release.
The highly experimental 'Rethreads' pulses menacingly within it's metronomic, almost motorik sounding skin, as noisy frequencies bend and pull through a kind of backwards cyclonic motion dragging angry feedback laden guitars and the throb of dub strewn bass frequencies with them through the whoosh of cymbal noise and deep dark atmospherics before we're introduced to the albums closing piece, the absolutely sublime 'Vamos Compańeros', a cover version of the original track by 'Harmonia 76'. This track originally appeared on yet another one of the many 'The Blog That Celebrates Itself' covers compilation entitled 'Komische Musik'. It rattles and surges through layers of repetitious krautrock and fizzing electronics that are permeated at times with subtle fuzziness courtesy of sparse guitars and throbbing bass frequencies. 'Vamos Compańeros' is a monstrous sonic filled thrill ride and a fitting ending to a wonderful compendium of tracks
5/5