" … for the hardened fan and newcomer alike … "
02/28/2018 Dead Sea Apes / review / Terrascope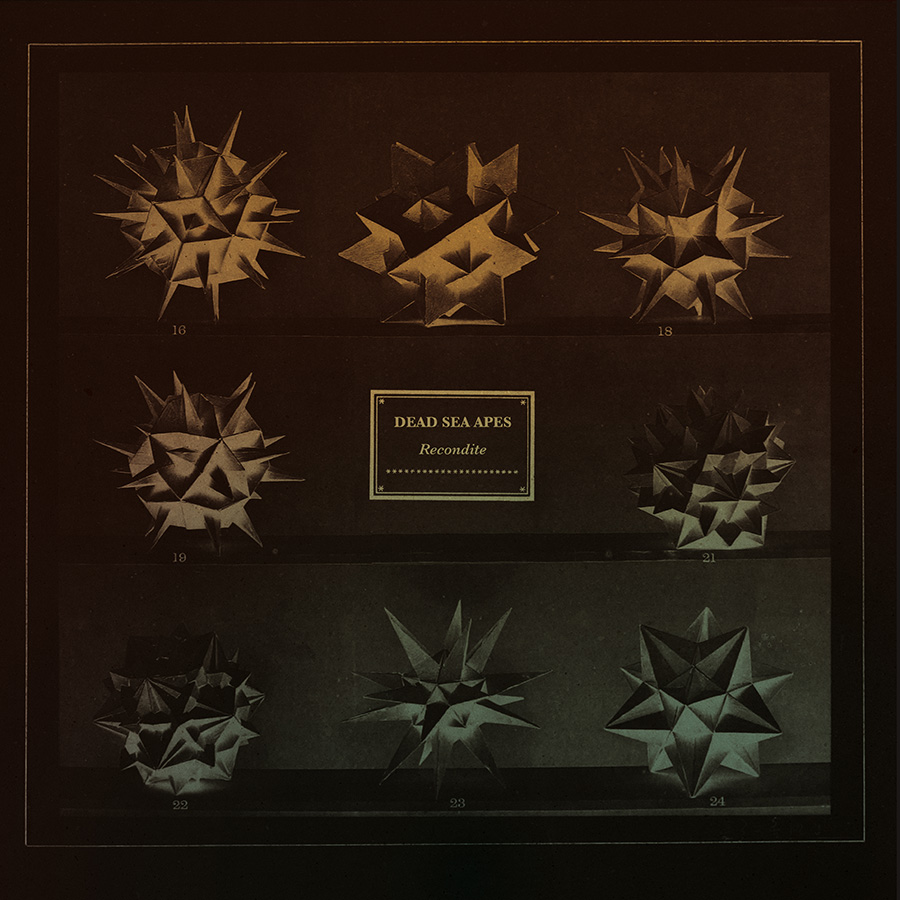 Manchester based Dead Sea Apes, along with fellow travellers such as Mugstar and Desmadrados Soldados de Ventura, are shining a spotlight on the North West of England as one of the real hotbeds for innovative and exciting psychedelic rock today. This fine double vinyl album (three extra tracks available with the download) is in essence a compilation serving as a 'best of' but with such a good and diverse selection of tracks coupled with a generous selection of alternate and hard to find versions it is much more than that and for the hardened fan and newcomer alike there is much to enjoy.
We start proceedings with 'Tentacles' which is a wonderful cavernous dub infused track with more than a nod to the late great Mark E. Smith in the echo laden vocal. It could happily sit at the rockier end of On-U Sound's classic dub experiments which is a good thing in these parts. 'Coronal' follows in a very different vein with a slowly building melody and repetitive rolling drum pattern over which things slowly get wilder and more intense as a howling gale of guitars and cymbals build up to a thrilling climax before fading away to the close. 'Planet V' changes the landscape again – it's a fine acid bluesy rocker showcasing some great guitar soloing.
With 'True Believers' we get one of the album highlights. It's an atmospheric belter with real extremes of light and shade. The track opens with a gentle psychedelic groove but the peace is soon shattered by a gargantuan crunching riff before returning to more gently brooding territory. The respite is brief and soon we are heading towards an exhilarating climax with only a brief pause for breath on the way. This is an absolute gem of a track and a masterclass in how to build and release atmosphere and tension.
'Land Of The Sun' is a Skip Spence cover delivering another sky high riff and guitar solo extravaganza with deep almost spoken vocals finding their way through the maelstrom not unlike Mark Lanegan's subterranean drawl. It's a stunning cover. A lyric sheet (or should I say Dead Sea Scroll?) for those unfamiliar with the words would have been a nice addition to the set. After this roaring song we get 'The Recognition', cinematic, reflective and quite beautiful in its slow building intensity and mournful violin.
'Universal Translator' establishes a different feel again with an atmospheric groove that becomes a heavier and more insistent space rock beast as the track builds momentum and power. 'Lupine Wavelength' is another fine track that pushes the Bardo Pond and Mogwai buttons very satisfyingly in the shifting soft and loud parts on its journey. Rückstoss Gondoliere' updates the Kraftwerk original wonderfully well and is followed by 'Rethreads', perhaps the most overtly 'experimental' track on the album with backwards effects and a sound collage feel creating something quite hypnotic. 'Vamos Companeros', originally by Harmonia starts with and is driven by an insistent and repetitive drum pattern generating a distinct and enjoyable 'Krautrock' vibe.
The bonus tracks to download are all worthy additions to this set. 'Sunwolf Lotus Island' opens with a prayer like incantation accompanied by cymbal swells which morphs into a riff driven squall of sound before fading to a gentle finish. 'Knowledge and Conversation' was recorded live at the Trades Club in Hebden Bridge and is a great slow builder with an underlying riff structure reminiscent of Mogwai but with a much wilder guitar solo over the top. Finally we get 'Wilder Penfield (Penfield's Mood Organ Mix)' which is quite different in sound and structure to what goes before. A definite touch of Tangerine Dream is evident to start with but an electro-heavy psyche jaunty urgency develops between guitar and keyboards with some fine propulsive drumming proving that Dead Sea Apes can dance.